Yumeka Sumomo has quickly become one of my favourite mangakas since I read her first work. She mostly draws short/one-shot shounen-ai mangas and her mangas are filled with abstract and a little surreal feelings. If you read yaoi, you might want to take a change and read her work. They are awesome. And honestly, it's still satisfying without seeing men doing those *** stuff, you know what I mean. XD
If you haven't read her work before, I would recommend you to start with Chou ni Naru Hi or Dousaibou Seibutsu, which are my most favourite work out from Yumeka Sumomo.
Enjoy! And please comment when you're taking. :3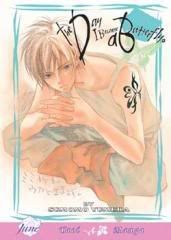 Title: Chou ni Naru Hi
Synopsis: There is a rumor going around school that Mikami can "hear" when one's death is near. Uka has just turned fifteen, but doesn't know how much longer he'll live… Will the budding love between Mikami and Uka have a happy ending?
Length: 1 volume
Download
Title: Dousaibou Setbutsu
Synopsis: Nakagawa and Yokota are two boys very much in love with each other. Yokota is more open with his feelings, but Nakagawa is easily embarrassed of public displays of affection. Though they may be outwardly different, their feelings for each other are the same... their connection is such that they liken themselves to Dousaibou Seibutsu (Same-Cell Organisms).
Length: 1 volume
Download
Title: Soshite Koi ga Hajimaru
Synopsis: Miki Tamura can read people like a book. To maintain his happy home-life and to please people, it's a skill he's learned to acquire. But what happens when he meets someone that he can't read so easily?
Download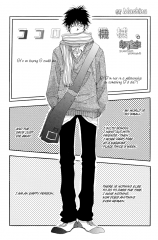 Title: Kokoro Kikai
Download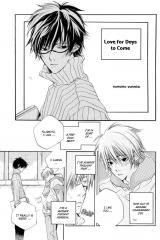 Title: Soshite Hibi Koishiteku
Synopsis: A short, but sweet story of two college friends who admire and care for the other.
Download
Title: Hate ni Aru Kimi
Synopsis: A short story about a guy sick of this world and the unlikely boy who anchors him to it.
MF
SS
Title: Natsukashi Machi no Rozion
Synopsis: A collection of four one-shots.
Chapter:
1) Natsukashi Machi no Rozione : a young woman struggles to realize the value of her childhood.
2) Icchoume Kikyouya no Hime-sama
3) Boku no Shalala: about witch Shalala and a human boy
4) Robot: Sci-fi romance
Download
+
Chapter 3
shared by
white_moon_
. (Thanks!)
Title: Blue Cat's Tunnel
Download
Title: Tenshi wo Tsukuru
Download
Tenshi wo Tsukuru Sequel
Download
Summaries taken from
MangaUpdates
.